Landscaping by a professional company
Do you want a stylish and modern garden? Or do you prefer another style of landscaping? We accommodate the entire project. Including construction and design. We offer a single service for all of your landscaping needs. That saves time and effort. We will transform your ideas and inspiration into a creative design that captures all of your wishes. We create low maintenance gardens with an incredible eye for detail. But we also offer more exclusive and luxurious landscaping services. Whatever your style is, we are happy to help you! Our family business has more than 40 years of experience in landscaping. Discover the possibilities for your landscaping project with our free quickscan below.
Why let us do your landscaping project?
Have you just moved to a new house? Did you renovate your house? Or are you simply looking for something new? And are you lacking time or inspiration to work on your garden yourself? Let us help you instead! We are more than happy to think along with you. As a professional landscaping company we organize the whole process, from A to Z. Our large team of (external) professionals is ready for every type of landscaping project.
We are there for everyone who expects high quality service. We will create your paradise on earth, where you have all the space to relax and meet the people who are most important to you. Just forget about the daily hustle and bustle for a moment. And enjoy your dream garden. That is what we try to create for our customers on a daily basis.
Experience ultimate freedom with our wooden constructions
When you get home from a tiring day at work you just want to relax. Our wooden constructions help you with that. Because relaxation is our focus. Barbecuing with friends and family, or enjoying the peace and quiet of a cool summer evening. And our luxurious wooden constructions are also the perfect chill spot for your kids. Do you want to install a wooden construction in your garden? Explore the possibilities with our free quickscan.
Van Rijn Tuinoplossingen in beeld
Onze mannen aan het werk
''Ik neem de totale verantwoordelijkheid over een tuinproject en zorg ervoor dat de klant van A tot Z wordt ontzorgd. Zoals het hoort!''
''Mijn passie ligt in het creatieve ontwerpproces, waarbij ik nadenk over een goede vertaling van de wensen van een klant. Ik ben trots op onze hoge klantwaardering, die bewijst dat we op de goede weg zijn!''
Landscaping Projects we are proud of
Landscaping: allow yourself a dream garden
Our family business creates tailor-made landscaping projects which feel like a present. And that is only possible because of our sincere passion for our trade. We have years of experience in complete landscaping projects. But we also accommodate smaller projects. With us you can expect a personal approach, quick communication and a set point of contact. This holds for every job we do.
Do you want to outsource your landscaping project to someone who really adds value to the process? We are more than happy to think along with you to create a nice living space for you.
During the corona pandemic we have all seen the importance of a nice living space. Especially since we had to work from home a lot. That is also why people are starting to value their garden more and more. Besides the fact that the garden is a nice place to meet people and to relax, it also enhances your productivity. It is scientifically proven that people who surround themselves with plants are more focused and productive.
Voor ieder die kwaliteit in plaats van low-budget zoekt
Gratis Tuin Quickscan plannen
Wil je jouw tuinproject uitbesteden en ben je benieuwd naar de mogelijkheden? Plan dan nu jouw gratis Quickscan. Wij bieden oplossingen vanaf €12.500,-. Wij werken o.a. in Noord-Brabant, Zuid-Holland, Utrecht en Gelderland.
Jouw tuinproject uitbesteden?
Hoi, kennismaken?!
"We helpen je graag verder! Samen komen we tot een doordacht plan, volledig naar jouw wens en binnen je budget."
1. Je ontvangt onze handige digitale brochure en we vragen je enkele foto's van je tuin te sturen.
2. We bellen voor een eerste advies en een prijsindicatie. Zo weet je direct of jouw plannen bij je portemonnee passen.
3. We plannen een afspraak bij jou op locatie. We inspireren je en komen tot een haalbaar en betaalbaar plan.
4. Je ontvangt een vrijblijvende en gespecificeerde offerte. Na jouw akkoord plannen we de werkzaamheden in.
5. Jij hoeft niks te doen, als 'tuinaannemer' regelen wij álles! Na afronding kun je gaan genieten van jouw eigen paradijs!
Landscaping: experience our quality and expertise
Are standard products not enough for you? Are you looking for a tailor-made solution for your landscaping needs? Then you have come to the right place! In every product we make, you can feel the passion for our trade. For that we combine computer-like precision with traditional techniques. This allows us to recreate perfection. Time and time again.
Need more inspiration for your dream garden? Follow us on LinkedIn. Our landscapers works outside of Eindhoven en Veldhoven in the entire North-Brabant and South-Holland region.s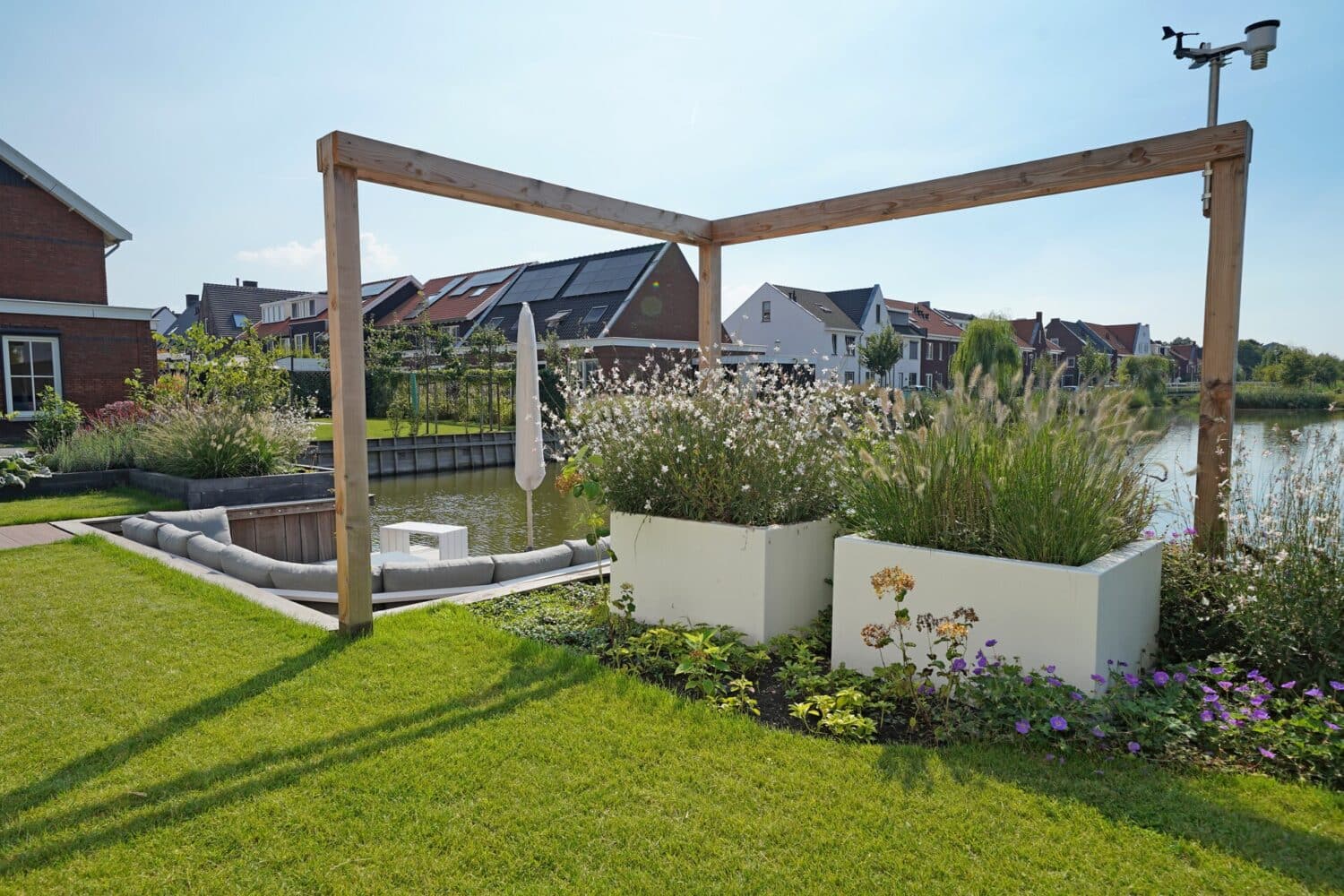 Landscaping project by a specialist
Have you just finished building a new house? Then you can't skip over the garden. However, when building a house, the garden often gets the last bit of the budget. And that might mean that you can't get the exact garden that you want. No worries! We listen carefully to your ideas and offer affordable solutions for your landscaping project. And we always discuss these options and their price with you in advance. That way, you will never spend more than you wanted on your garden.
What are the costs of a landscaping project?
Choosing for a landscaping project is not an everyday decision. Because renovating your garden is quite an investment. Therefore, we think it is important to give you a proper idea of the cost of your project before we get started. Moreover,  it is a general question and the answer depends on your needs and wants. It is also something that people often underestimate. That is why we would like to help you in the choices for your landscaping project.
Landscaping project and design
Have you just moved into your new house, but is the garden not really meeting your needs? Or have you been living in the same house for a while and are you ready for something new? Then it is time for a new design of your garden. Your landscaping needs could have possibly changed due to many factors. For example an addition to the family, or maybe the kids have just moved out? Perhaps your current garden takes too much maintenance. Maybe your garden is just ready for replacement. That's okay, we are here to help! We offer complete landscaping projects.
Download onze gratis INSPIRATIEGIDS!
We helpen je graag verder! Samen komen we tot een doordacht plan, volledig naar jouw wens en binnen je budget.